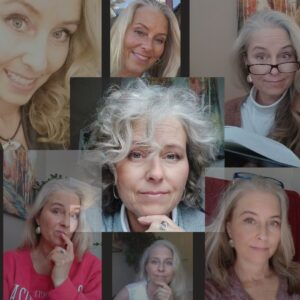 My Story
The first thing I want you to know is that I am human just like you. I'm living my story just like you are living yours. I've had struggles, battled with cancer, health conditions, and emotions all of which were equally painful in different ways. I've had bad relationships and had to hit the restart button a few times in my life. I'm still standing. I believe you can too.
Personally, I'm an immigrant from Sweden (30+ years ago). A mom to 2 amazing now-adult-kids, and grandma (Farmor) to 3 brilliant grandkids. I love hockey, humor, music, movies, and anything to do with water.
Professionally, I've been in the workforce for over thirty-five years. I've served in education, government, corporate, non-profit, and managed care. Like all work, the pressures and demands are familiar to all of us. As professionals it can be especially complicated. Our perceptions often drive us to believe we are supposed to be able to handle it all with no room for error. Our environments can be equally unforgiving. Looking beyond the stress can feel impossible but that doesn't mean it is.
Towards the end of 2018 I made the decision to do what I love. For too long I had been striving after what I thought was the right thing to do according to the "rules". What others expected of me and what society defined as success – to get to the top. While it is true that the top can have a bigger view, that doesn't make it a better one. I was unhappy and frustrated with the system of care. I wanted to make a real difference and to stop jumping through hoops or make others do so. In January 2019, I returned to private practice with a goal of being a resource to clients by focusing on information exchange rather than psychopathologizing the human experience.
It has been a truly amazing journey.
I have been privileged in my career to work with and learn from leaders and experts in the field. However, the most humbling experience was practicing in the southwest and its rich cultural climate. It is where I learned the most, about others and myself. In counseling it's the client's thoughts, feelings, cultural beliefs, values, and world views that matter. It should be a collaborative process of discovery that is not based on a predetermined list of "to-dos" or labels. Thinking that we can put people in specific mental boxes through standardization is like herding cattle. We're not cattle. Stepping into someone else's inner journey is probably the biggest privilege.
By license I am a Professional Counselor, by formal education I'm a doctoral level psychologist, and by certification I am a Reality Therapist specializing in Choice Theory Psychology. I take a practical approach that is needs-based and solution-focused. We are not just behaving beings. We are complex neurological, socio-cultural, physiological, thinking, feeling, and even spiritual (depending on what you believe) beings. Being human is endlessly fascinating! That's what we should be talking about, not pitting illness against wellness.
Although my credentials include assessing and treating psychiatric conditions, I am less interested in diagnostic labels and much more interested in strategies towards making life work for you.
My practice is online where I provide psychological counseling, psychotherapy, and coaching. I primarily serve professionals in a variety of fields internationally and nationally from all walks of life, backgrounds, and faiths. I also adjunct at a local community college in the counseling department.
One of my biggest passions is writing, an area I continue to explore. For years I've covered everything from research, life and relationships, news and events, to professional responsibility in public policy & mental health, and most recently the challenges of dating.
I see my profession as an opportunity to share potentially life-changing information. Something I do not take lightly. All we ever do in life is exchange information, try to make meaning of our experiences. What we do with that information is entirely up to us.
Every day is a chance to perceive and interpret our experiences in a new way. Knowing what that looks like requires a neutral sounding board sometimes. As a counselor, I hope to share information that gives you the momentum needed to impact your work, sense of direction, hope, mental health, and towards reaching your vision in a positive way.
What do I believe about the human condition, life? I believe …
change begins with awareness
in keeping things simple. Life doesn't have to be complicated
professionals in mental care have a responsibility to provide healthy information
we need understanding not a diagnosis
problems mean that there is missing information
everyone has the ability to make the changes they want to make
each person's story is unique
our needs are our drivers
that what we do is our creative attempts at making life work
success is a relative term and all success begins with a plan
what you seek you will find
what you magnify will become bigger
there's always another side
Whether on the job or at home, we all have this one space – life – in which to create and build our story, meet our needs, and make it all work. The choices we make can have a profound impact both good and bad.
Some turns in the road certainly don't feel like they give us much choice and sometimes the last thing we want is change. Setting the wheels in motion rather than staying in our rocking chair can feel like more effort than it is worth.
Perhaps you are struggling at work, school, as a student, parent, leader, in a relationship, with new roles or responsibilities, uncertain about your future, or feeling overwhelmed by life itself. Maybe you have tried everything, and nothing seems to work or you are in search of new directions and not sure where to start.
You have come to the right place. Whether it seems possible or not right now, everything is subject to change. You can be that change.
Why not let my expertise in psychology and counseling work for you? If you are ready to make a difference in your own life or career, I have some information that can help.