Whether for counseling or supervision, it is important to be educated about the counselor as well as the services that are going to be provided. The informed consent and disclosure statement is an agreement of understanding about those services and gives permission to deliver them. It is a part of an entry packet of information that is shared to help you make educated decisions about your care. It is revisited as needed throughout the time that services are rendered and you should always feel free to ask questions. (Click Here).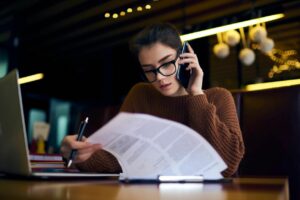 _________________________________________________________
Communicating online or electronically whether via video, text, email, or chat is not always secure. As it pertains to counseling services there are national standards which outline ethical and legal obligations of counselors to maintain confidentiality in electronic information pertaining to you as the client. Standard email is not considered a secure method of communication nor is texting. It is never advisable to communicate personal and private health information using regular email or text. For this reason, I utilize a secure platform for messaging and video which can be accessed by creating a free account at:
There is never a charge to you for having an account with this system. The only thing you pay for are the sessions that you purchase and schedule with me as you need to. There are no subscription fees or hidden charges. After you sign up and send me a message I will follow up with the informed consent documents for you to read and sign.
To view the various sessions available simply click on the button to "book a session" and scroll down through those options and their descriptions. If you are uncertain about which session to select, simply sign up using the link above so you have access to message me securely without choosing a session. We can figure out what may work best for your needs together through messaging :).
Selecting the session type, date, and time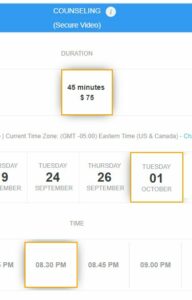 Information about each session type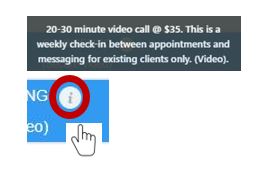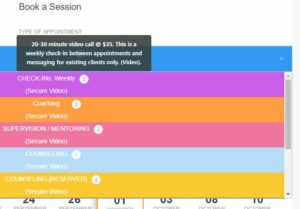 _________________________________________________________