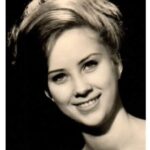 If you would have stepped into a room of my thoughts this past week it would have been a gamble as to whether you were in a funhouse or a Bergman film. It's been a rollercoaster. It's also been a week since my mom died.
So, I'm reminding myself of what I know; that …
… grief takes time, sometimes it takes all our time. That's what I tell my clients but years since I've had to apply it personally at this magnitude. A parent holds a certain placeholder in life that hits different. For me, I'm in shock. It was unexpected.
… there is no right way to grieve. I'm more mad than sad. I keep thinking, "we weren't done talking!!!", even though I know that the last few years we said what we had to say. I just didn't want it to end. It was finally a good healthy conversation. We worked hard to get there. After decades of turmoil and separation we'd finally reached a place of peace… and she bails. That's what my feelings say. I know there is no intentional departure recovering from Covid-19. It's a hot mess with no certainties. It makes me so angry.
… grief is a process of reorganization. For now, I dredge on through the mire of mourning. Taking it one day at a time. Remembering the good things, who she was, honoring her life in a way that she would have wanted and that which is meaningful to those who loved her. It's no longer about me, fairness, or meeting needs. She was a teen mom in the 1960's. She did the best she could. It's about stepping up, a duty.
Until the next phase of this grieving journey comes, that's where I'm parked. Still saving a space for her each day, to talk, knowing what she'd say, hearing her voice in memory, re-reading texts and emails, looking at pictures, setting up her memorial. Maybe I'm keeping busy. Maybe I'm in denial. Either way, I'm doing all I know to do right now and that's enough.
R.I.P. mamma